Over 75% of our business comes from repeat customers or referrals. We work harder for our customers, and we would like to think that it shows.
That's because Johnson GT carries a large variety of products for every style of personal, recreational and business vehicle on the road today. And if we don't have it in the store when you visit, we can get it for you.
Johnson GT has the hitch to give you the pull you need. From receiver hitches to goosenecks and 5th wheels, we can install your hitch and have you hooked up, whether you want to haul jet skis down to the lake or pull a 32-foot long 5th wheel.
Johnson GT also offers all types of hitching writing and brake controller systems to keep your haul legal.
Select from any of the following product pages listed below.
5th Wheel Hitch
Gooseneck Hitch
Trailer Hitch
Hitch images shown below are representative models only, and do not include the various
versions available to you based on intended use or vehicle type.
Johnson GT staff will help you select and install the correct hitch for your vehicle.
A 5th wheel trailer hitch is designed to mount into a pickup truck bed and receive a kingpin from a 5th wheel trailer. Much like the design of a semi truck, a 5th wheel hitch features a large, generally flat coupler head that latches onto the kingpin using a set of locking jaws. Being mounted in the back of a pickup, between the axles, this type of hitch can handle much more weight than a standard trailer hitch, up to 24,000 lbs. 5th wheel hitches also provide a wider turn radius and overall smoother ride.
Though a 5th wheel takes up more room in the truck bed when installed, it mounts to the vehicle using a set of brackets and rails that allow the main 5th wheel assembly to be removed whenever necessary, without much effort.
CURT 5th wheel hitches are in a category of their own, giving new definition to the concept of heavy-duty towing. With their superior strength and gentle ride, 5th wheel hitches are intended for towing heavy loads and, more specifically, the bulky size of 5th wheel trailers. At CURT, we recognize the need for quality 5th wheel towing products and the fact that the most common use for fifth wheel hitches is RV towing. As such, we have designed our 5th wheel trailer hitches to be the perfect balance of towing power and versatility, to give you that ultimate RV experience, weekend after weekend.
At B&W Trailer Hitches, we stand for the future of American manufacturing. The US has lost 1.9 million manufacturing jobs to China alone over the last decade. "Made in America" can succeed, but only if we rely on the priciples that work in our own neighborhoods. We grow by earning trust and improving customer value, not by cutting costs. We treat each other as family, not as "labor" exportable to the lowest bidder. We let people use cutting-edge technology to make things safer, easier, and higher quality, rather than let technology use us. We respond to customers and changing markets by being right-sized and flexible, not just bigger.
For more information about 5th Wheel Hitches at Johnson GT, click here
A gooseneck hitch is designed to handle the heavy tow load that accompanies a gooseneck trailer. Trailers of this sort typically come in the form of an RV or livestock trailer but can also include other large trailers such as flatbeds. Like a 5th wheel hitch, a gooseneck hitch mounts into the bed of a pickup truck using a special installation kit or set of brackets. In addition to their high towing capacity, gooseneck hitches are appreciated for their tighter turn radius capabilities and subtle presence in the truck bed.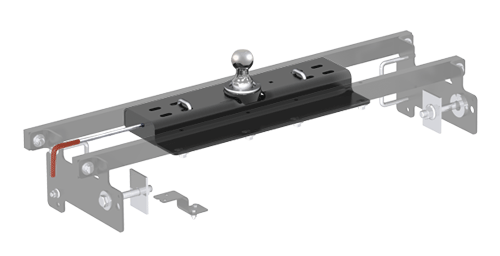 Quality craftsmanship and intelligent design come together to form the CURT gooseneck hitch line. This line of products is spearheaded by our Double Lock EZr Under-Bed Gooseneck Hitch. The EZr offers optimum strength with a fortified center section, one-person installation and a flip-over trailer ball that keeps your truck bed free of obstructions. It also has a sturdy handle that can be positioned on either side of the truck and double-locking pins that help ensure secure towing. One other feature of the Double Lock EZr and similar gooseneck models is our exclusive Center Locator. Gone are the days of repeated measuring and misaligned holes; the CURT Center Locator simply pops into the trailer ball hole of the hitch and provides an exact marker for where to drill on the under-bed.
A hitch when you need it… a level bed when you don't. The B&W Turnoverball Gooseneck Hitch converts to a level bed in seconds.
CURT manufactures over 1,000 different trailer hitches to meet every possible towing need. It is our goal to always be your best option for towing by providing a complete line of quality products and being first-to-market with towing products for each new vehicle. If we can get you out on the road with a hitch you can enjoy for years to come, doing more of what you love, we have done our job.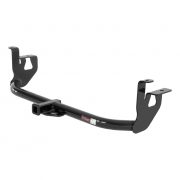 At CURT, our motto has always been 'the only constant is change', but something we will never change is our commitment to staying ahead. CURT is blazing the trail in the towing industry by constantly developing new products and new ways to improve our products. From the conception of a fresh idea in the minds of our engineers to the first time one of our hitches is set up to tow, CURT goes above and beyond in quality, care and innovation.
If there is one thing we do best here at CURT, it is the rear mount trailer hitch. Our rear mount hitches are the pride of our product line, and we invest greatly to ensure that you are receiving a product you can depend on and be proud to own. The secret behind the strength and finesse of CURT trailer hitches is in our custom-fit approach.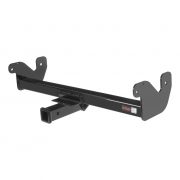 CURT front mount trailer hitches allow you to use the front end of your vehicle for various towing applications. They can be used for mounting a winch, snow plow or other accessories. When space is limited, a front mount hitch is commonly used to hold a cargo carrier, freeing up space inside the vehicle for extra cargo and making the rear mount receiver available to pull a trailer. At the boat ramp, your boat trailer can be hitched up to the front mount receiver, giving you better control over the trailer as you launch. Some of the other accessories that can be used with a front mount hitch are the step pad, license plate holder, spare tire mount and the CURT skid shield.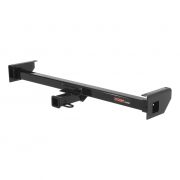 CURT is your go-to source for trailer hitches no matter what you drive. Our custom-fit hitches are the ideal towing solution for your car, truck, van or SUV, complementing your vehicle's design and installing with ease. Though we produce over 1,000 different trailer hitches, our line of custom hitches is always growing.
A CURT RV hitch is a trailer hitch that is designed to mount onto the back of a recreational vehicle to add extra cargo space or to allow a car to be flat-towed. These hitches are manufactured using CURT's quality processes of robotic welding, thorough cleaning and precise finishing. Both our RV trailer hitches and RV bumper hitches are coated with a liquid Bonderite® coating followed by a high-gloss black powder coat for lasing resistance against wear and corrosion, and both offer a 2″ x 2″ receiver tube opening.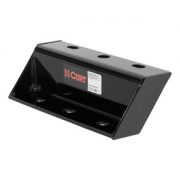 A CURT bumper hitch mounts onto your vehicle's bumper, rather than the frame, and provides a receiver tube for a ball mount, cargo carrier, bike rack or other hitch-mounted accessory. Unlike a bumper mount, which is simply a hole in the vehicle's bumper for installing a trailer ball, a bumper hitch allows for adjustment and flexibility in towing application. CURT receiver-style bumper mount hitches accept a 2" x 2" ball mount shank and can tow up to 5,000 lbs. of gross trailer weight and 500 lbs. of tongue weight. With a weight distribution system installed, a bumper hitch receiver can tow up to 6,000 lbs. This makes the bumper hitch a great choice for hauling many types of trailers, including boat trailers, utility trailers, pop-up camper, livestock trailers and more. It should be noted, however, that the weight carrying capacity is always dependent on the bumper's weight capacity rating.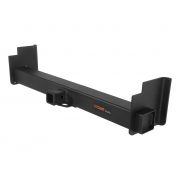 A CURT weld-on trailer hitch is a unique towing option for your vehicle. As the name suggests, a weld-on hitch is designed to be welded directly onto the frame of a vehicle, using thick side plates. While the installation of a weld-on hitch is far different from and somewhat more tedious than other CURT hitches, weld-on hitches offer a high towing capacity at 12,000 or 15,000 lbs., depending on the model. Weld-on hitches come with a square frame for increased strength and have a 2" x 2" receiver tube opening to accept a ball mount shank or other towing accessory. They are strong and virtually universal in design. Weld-on trailer hitches come with a scratch-resistant and rust-resistant black carbide powder coat and require no hardware for installation.
For more information about CURT Hitches at Johnson GT, click here