Since 2009, Clazzio.com has been The MOST TRUSTED online source for Clazzio Seat Covers. We are constantly adding new leather seat cover kits, so if your car is not listed, check back often, or contact us to let us know there is demand for your vehicle.
Clazzio has four choices for the inside area (Insert); Perforated Genuine Leather, Artificial Suede, Quilted PVC "Diamond Stitch", and Perforated PVC . The outside area (body); is made of a soft PVC which gives you flexibility for the installation. Clazzio Leather Seat Covers are made of tough materials, suited for the harsh conditions of a vehicle's interior, and come with a 1 Year Manufacturers warranty. They are treated with anti bacterial, and flame resistant coatings. 15mm of memory foam is used in the cushion for added comfort during long hours of driving.
So whether you want to cover up old worn out cloth seats, or upgrade your seats like a factory leather package, Clazzio's Got You Covered!
Seat Savers from Covercraft are the best, quick and easy way to protect the seats in your pickup or SUV. Covercraft Seat Savers slip on and off in minutes, providing protection against dirt, spills, kids, pets, outdoor adventures or everyday wear and tear – and when soiled, just throw them in the home washer and dryer. Seat Savers are custom patterned for front seats, back seats and 3rd row seats, plus they have cutouts provided for seat adjustment knobs, shoulder belts in seatbacks and fold-down armrests. All Covercraft Seat Saver covers are easy to clean at home, and no tools are needed to install or remove them.
Your original seat material will be protected from harmful sun & UV rays while the fabric breathes eliminating the wet sticky back so common with other type of seat covers. Seat Savers heavy duty poly cotton drill weave fabric features overlapped and double stitched seams for durability and is protected with a water repellency finish that blocks liquid from reaching your seats. Seat Savers are available in 4 different materials & the color choices below.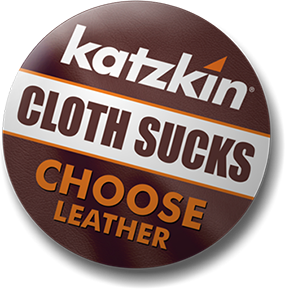 In 1983, Mitch Katz, together with his sister Lesley, established a leather goods manufacturing company. Mitch and Lesley are "kin", creating our name; Katzkin.
Since our enthusiastic beginnings, Katzkin has been committed to producing a product unmatched in workmanship and style, through superior craftsmanship, world-class engineering, and extraordinary design capabilities.
We make more than just leather interiors; for over 30 years, we've handcrafted the transformation of the entire driving experience.