Over 75% of our business comes from repeat customers or referrals. We work harder for our customers, and we would like to think that it shows.
That's because Johnson GT carries a large variety of products for every style of personal, recreational and business vehicle on the road today. And if we don't have it in the store when you visit, we can get it for you.
Our sales and installation teams have years of experience designing and installing the right system for your specific job requirements. From the one-person satellite dish installer to fleets of road maintenance vehicles, we've seen it all.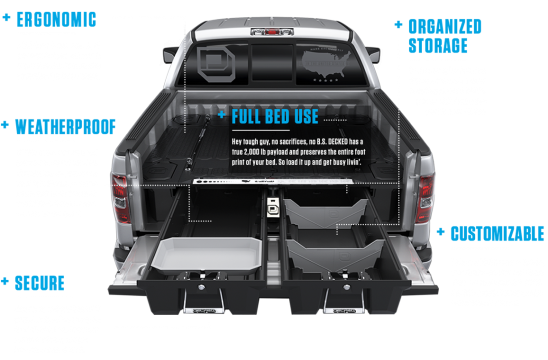 After over 20 years of battling, band-aiding and otherwise fussing with homemade wooden drawer systems made of plywood, dimension lumber and half the hardware department from True Value, co-founder, Lance Meller, declared, "Wood is dead." Sleeping in the back of his truck as an outdoor sales rep, spooning with skis, snowboard samples, tools and just about everything other than a warm woman, Lance started working with some pals on a solution to his pickup truck bed junk show. A few things fell into place, including a BLT with co-founder, Jake, and after nearly three years of research, design, and engineering work, DECKED was born.
DECKED revolutionizes pickup truck organization with an in-vehicle storage system compatible with Ford F150, Ford F250, RAM 1500, RAM 2500, Chevrolet Sierra, GMC Sierra, Toyota Tundra and Nissan Titan pickup trucks.
It's an ergonomic toolbox which slides out tools, gear, and other items in heavy duty drawers at waist height while still allowing the owner full use of their truck or van bed. DECKED is weatherproof, secure, ergonomic and made in the USA.
DECKED has done it again; revolutionizing cargo van organization like we did with pickup trucks. Get van cargo storage bins that slide in and out to help you store and organize your tools and/or toys. This leaves plenty of room in your van for big toys like bikes, boards and more. It also leaves room for further uplifting as needed. Our cargo van organizers are compatible with Ford Transit, RAM ProMaster, Chevrolet Savanna, Chevrolet Express, GMC Express, GMC Savanna, Mercedes Sprinter and Nissan NV models.
We introduced the DECKED D-Box about a month ago and we've had a hard time keeping them in stock. Having a handy toolbox or gear box which drops right into your drawers makes the DECKED system even more efficient and ergonomic.
K & W is a competitive company with strong business values; because of this we have enjoyed over 20 year relationships with most of our customers. We are a customer driven business, that has been family owned and operated since 1968.
We carry a full line of standard toolboxes and accessories; we also build custom items to your specifications. We offer a full service tool and die facility to quote, build, and run dies for your all your stamping needs. Our dedication to quality and broad expertise in metal stamping operations delivers unsurpassed cost savings.
RKI is proud to manufacture the industry's best truck equipment (service bodies, tool boxes, winches and cranes) and ship it to customers all across our country from the great State of Texas. You've probably seen a work truck with the name "Rawson Koenig" on the tailgate or an RKI crane mounted on the corner of that truck or a toolbox on your neighbor's pickup with our RKI label on it…THAT's US!!!
We've been building commercial grade products just off 290 near 610 in Northwest Houston for over 40 years. Our people think its fun and rewarding to work for a small but solid company that builds a product they can see almost anywhere and be proud of it.
Dedicated to professional workers and tradesmen, a complete assortment of commercial storage and carrier solutions at a great value. For the workman looking for tough, well-built storage and carrying solutions, that are as hard-working as you are. Tough. Reliable. USA Made.
Our most popular boxes featuring our Patented Foam Filled Lid and stainless steel locks for strength and durability.

Designed to sit inside the truck bed against the back of the cab, leaving bed rails free for other uses. Note: Standard Chest models are for storage only. Not recommended for use in pickup trucks.
Designed to provide additional tool, equipment and storage space when a crossover toolbox is not enough.
Saddle Boxes are the most popular truck storage option due to ease of installation, maximum bed clearance and legendary durability. The aluminum Full-Size Model 127-0-02 Saddle Box features a diamond plate pattern with ARMOR-TUF® Clear Coat finish that ensures years of dependability. It has a storage capacity of 11.3 cu ft.
Cross Boxes allow access from either side of the truck with two independent locking covers. The steel Model 114-3-01 Full Extra Wide Cross Box features a diamond plate pattern with Brite White ARMOR-TUF® Powder Coat finish that ensures years of dependability and has a storage capacity of 15.3 cu ft. This rugged, versatile box has a full weather seal to keep out the elements.
WEATHER GUARD®, a WernerCo brand, is an industry leader in truck and van equipment, including truck boxes, drawer units, shelving, cabinets, and racks for trucks, vans and utility vehicles. WEATHER GUARD® organizes trucks and vans for greater productivity and provides tools and valuables superior protection against break-ins and weather.
In the early 1990s, WEATHER GUARD® Truck Boxes were again redesigned to increase security, safety and durability for its end users. It incorporated many items that its users are accustomed to with the automotive industry. High-quality automotive-style locks and latches were added along with other major changes. This again set WEATHER GUARD® Truck Equipment apart from its competition.
These are just some of the solutions offered by Johnson GT and Weather Guard.
Protection For Your Van – In an accident, the bulkhead might be the only thing standing between you and an airborne reciprocating saw. Bulkheads separate the driver compartment from the cargo area for maximum protection against shifting loads.
We considered the big things and the small details to give you more organization in your van. We considered the big things and the small details to give you more organization in
For Ladders & Long Materials – WEATHER GUARD® Van Solutions offer a variety of roof racks to address every trade, every business, every need.
Designed to make getting ladders on and off your van almost effortless, EZGLIDE2™ is the easiest, lightest, and safest drop-down ladder rack system available for compact size vans.