Interior Upgrades
Over 75% of our business comes from repeat customers or referrals. We work harder for our customers, and we would like to think that it shows.
That's because Johnson GT carries a large variety of products for every style of personal, recreational and business vehicle on the road today. And if we don't have it in the store when you visit, we can get it for you.
In our hot North Texas environment, every vehicle and driver needs extra protection to protect passengers and interior surfaces from the harmful effects of a blazing sun and stressful materials such as dirt, water and grease.
Floor Liners & Mats
Seat Covers
Sunshades
Under-Seat Storage
Window Tint
WeatherTech All-Weather Floor Liners and Mats
The WeatherTech All-Weather Floor Liners & Mats have deeply sculpted channels designed to trap water, road salt, mud and sand. Our proprietary engineered odorless resin ensures that these mats will not curl, crack or harden in sub-zero weather. Our All-Weather Floor Mats also have anti-skid ridges to prevent shifting in your vehicle and come with a protective, non-stick finish to make cleanup quick and easy.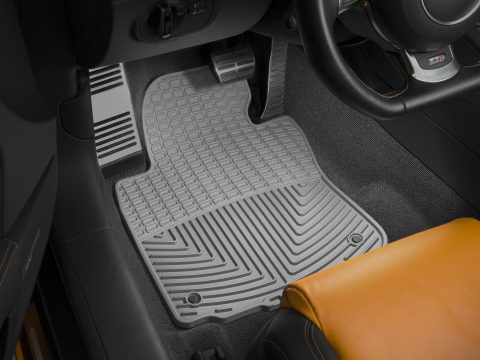 WeatherTech All-Weather Floor Mats are manufactured in America to ISO 9001 standards, and also meet FMVSS302 standards – your assurance of quality. Choose from Black, Tan or Grey to complement virtually any interior color. Available for cars, trucks, minivans and SUVs.
The WeatherTech FloorLiner accurately and completely lines the interior carpet giving "absolute interior protection"! The WeatherTech FloorLiner lines the interior carpet up the front, back and even up the sides of the vehicle's footwell. Digital laser measurements of interior surfaces offer a consistently perfect fit!
A patent pending High-Density Tri-Extruded (HDTE) material allows for a rigid core for strength while offering surface friction to the carpet, as well as tactile feel to the surface! Advanced surfacing creates channels that carry fluids and debris to a lower reservoir with further channeling to help minimize fluid movement while driving! Once fluids become trapped in the reservoir, away from shoes and clothing, they are easily removed from the WeatherTech FloorLiner over the door sill. No muss-no fuss!
For more information about WeatherTech Floor liners, click here
Husky Liners® perfectly matches the contours of your truck or SUV and brings together indestructible strength with a soft, comfortable cushion. Add to that a premium look and our exclusive features and you've got liner gold.
PREMIUM AUTO FLOOR MATS -Soft and Strong, Just Like You.
The Husky Liners® X-act Contour® perfectly matches the contours of your truck or SUV and brings together indestructible strength with a soft, comfortable cushion. Add to that a premium look and our exclusive features and you've got liner gold.
Punch it, slap it, flick it, kick it. Can you feel it? So come on, get those truck floor mats you've always wanted.
WEATHERBEATER All-Weather Mats, Rugged and Sporty
Put Nature firmly in its place. The rugged and sporty WeatherBeater™ Floor Liners perfectly conform to the contours of your ride and offer un-beatable carpet protection for whatever nature hurls at you. What are you waiting for?
HEAVY DUTY – Tough & Reliable Floor Mat
Whether you've got carpet or vinyl, our rubberized DuraGrip™ material was designed with comfort in mind. With the perfect balance of softness and strength, punch it, slap it, flick it, kick it. Can you feel it?
Classic Style – The Original Floor Liner
Our Classic Style Liners set the mold for auto floor protection. Featuring our rugged diamond plate look and FormFit™ design, these classic liners offer protection for vehicles dating all the way back to the 1970s.
Since 2009, Clazzio.com has been The MOST TRUSTED online source for Clazzio Seat Covers. We are constantly adding new leather seat cover kits, so if your car is not listed, check back often, or contact us to let us know there is demand for your vehicle.
Clazzio has four choices for the inside area (Insert); Perforated Genuine Leather, Artificial Suede, Quilted PVC "Diamond Stitch", and Perforated PVC . The outside area (body); is made of a soft PVC which gives you flexibility for the installation. Clazzio Leather Seat Covers are made of tough materials, suited for the harsh conditions of a vehicle's interior, and come with a 1 Year Manufacturers warranty. They are treated with anti bacterial, and flame resistant coatings. 15mm of memory foam is used in the cushion for added comfort during long hours of driving.
Seat Savers from Covercraft are the best, quick and easy way to protect the seats in your pickup or SUV. Covercraft Seat Savers slip on and off in minutes, providing protection against dirt, spills, kids, pets, outdoor adventures or everyday wear and tear – and when soiled, just throw them in the home washer and dryer. Seat Savers are custom patterned for front seats, back seats and 3rd row seats, plus they have cutouts provided for seat adjustment knobs, shoulder belts in seatbacks and fold-down armrests. All Covercraft Seat Saver covers are easy to clean at home, and no tools are needed to install or remove them.
For more information about Covercraft Seat Savers, click here
In 1983, Mitch Katz, together with his sister Lesley, established a leather goods manufacturing company. Mitch and Lesley are "kin", creating our name; Katzkin.
Since our enthusiastic beginnings, Katzkin has been committed to producing a product unmatched in workmanship and style, through superior craftsmanship, world-class engineering, and extraordinary design capabilities.
We make more than just leather interiors; for over 30 years, we've handcrafted the transformation of the entire driving experience.
Shade your car and protect your vehicle's interior with the Eclipse Sunshade – the original retractable car, truck and auto windshield sun shade.
If you own a car, truck or van and live in a place that has at least 1 sunny day a year, you NEED the Eclipse Sunshade. The Eclipse Sunshade is the original retractable and self-storing car, truck and auto windshield shade.
While there are a number of imitation car, truck & auto window sun shades, none of them provide the same level of coverage and durabilty that the Eclipse Sunshade does. Not only is this the best shade on the market, it's one of the best car, truck or van accessories you'll ever purchase!
TechShade® Windshield Sun Shade
Custom fit and perfect for any season, the TechShade® can keep your vehicle cool in the summer and help prevent frost build-up in the winter. Reflective film chases the sun away in summer. Then, the reverse side absorbs the heat for those cold winter months. When not in use, the TechShade® is easily removed, rolled and secured with a Hook & Loop strap. The TechShade® is custom fit for each vehicle.
TechShade® Full Vehicle Kits
WeatherTech® TechShade® Full Vehicle Kits help keep your entire vehicle's interior temperatures down while protecting it from the sun's damaging effects. TechShade® Full Vehicle Kits include 4 or 6 pieces depending on the vehicle model.
TechShade® kits are custom-fit, and when properly installed, will remain snug in each window opening on the vehicle. Each TechShade® features a foam core, which makes for easy handling and a sturdy fit. After use, simply pull on the your shade's pull tabs and roll all pieces together using the easy roll up and store Hook & Loop strap.
For more information about WeatherTech sunshades, click here
Whether you're a contractor, sportsman or simply someone looking for a great way to organize your pickup truck, the DU-HA is perfect for you. The DU-HA allows you to store your guns, ammunition, hunting gear, fishing rods and reels, tackle, GPS, binoculars, power tools, rain gear, tow ropes, tie down straps, first aid kit, bungee straps, jack, hats, boots, gloves, jackets, chains, jumper cables, spare batteries, etc. safely and securely either under or behind the back seat of your pickup truck.
The DU-HA includes a 2 piece gun rack/organizer, so you can safely store your guns in their upright position. The DU-HA acts as a legal gun case in most states and carries 2-4 guns depending on the configuration for your truck.
Truck Storage Box – Stash your stuff with our back seat organizer
Whether you're looking to get more organized and keep your stuff from sliding around, or you're the type that just wants an easy spot to hide all your garbage, the durable Husky Liners' GearBox® keeps you looking clean and organized.
LLumar window film is manufactured by Eastman Chemical Company, a global specialty chemicals company founded by George Eastman of Eastman Kodak in 1920. Eastman produces a broad range of advanced materials and specialty chemicals that are found in thousands of household and industrial products that people use every day.
Eastman has one of the largest and most integrated window and performance-coated film manufacturing sites in the world, serving customers in nearly 100 countries around the world. The entrepreneurial initiative of Julius Hermes in 1956 was the historical cornerstone of the LLumar brand. Known as the father of dyed PET (polyethylene terephthalate) — the polyester now used in most window films — he was the right person, with the right product at the right time that moved the industry forward into the thriving business it is today.
Premium drivers now have the perfect film match for their new cars. Gone are the days when dark metallic film was the only way to be cool. Today's drivers, who know style is a personal choice, can enhance their vehicles high-value appearance while accelerating the performance. No other automotive film on the market can out perform Wincos.
Madico is more than the world's preeminent manufacturer of metalized, coated and laminated films. We are more than a company that innovates practical solutions to energy and safety-related challenges.