Radar Detector by K-40 Electronics
K40 has been making the most advanced radar detectors in the world since 1981. That commitment to product excellence – coupled with the real world expertise and dedication to service of the K40 team – is what keeps customers coming back again and again.
It is this confidence in our products, our people, and our network of elite dealers and installers that allows K40 to offer the most comprehensive set of guarantees in the industry, including the world's first ticket-free guarantee.
At K40, we're not only dedicated to our customers and dealers. Our community involvement has always been an integral part of who we are.
RL360i Radar Detector – Fully-integrated 360º radar protection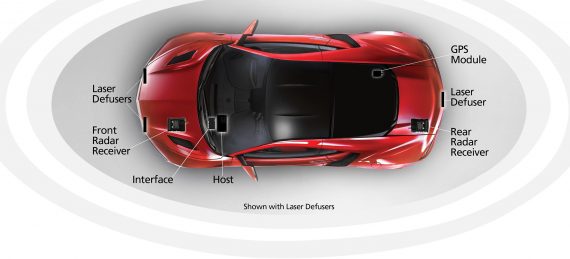 The ultimate in speeding ticket protection, with four hidden receivers, 18 unique settings, hundreds of customizable options
A radar system so complete, you'll fly down the road surrounded by a virtual forcefield of protection. An installation so discreet, your friends will ask if it came with your vehicle. That's the K40 RL360i.
Directional Awareness — Know exactly where the police are at all times – dual radar receivers provide directional awareness and increased range to keep you protected from radar threats – two discreet LEDs indicate front (left light) or rear (right light) radar, accompanied by an audio alert that states "front" or "rear" as well as the specific band of police radar.
K-Band Filter — The RL360i intelligently recognizes and rejects radar-based safety features from other vehicles and your own vehicle so you remain focused on real radar threats.
Traffic Sensor Filter — The RL360i will reject alerts from traffic flow sensors usually encountered during highway driving.
K40 front and rear OEM-like Visual and Auditory Alerts — The RL360i retains the original factory appearance of your vehicle's interior by strategically hiding two LEDs in the instrument cluster and an audio speaker under the dash. It's a completely undetectable protection system until the RL360i warns you based on your preferred settings. Choose from five customizable LED brightness settings, voice or tone alerts, or muted audio.
RLS2 Smart Radar / Laser Detector
Utilizing many of the same advanced technologies found in our acclaimed remote installed radar detection systems, the high-performance RLS2 packs a powerful defensive punch into a convenient, portable design.
Maximum accuracy is assured thanks to the intelligent K-Band filter that automatically scans and rejects radar-based safety features.
By employing state-of-the-art GPS communication, maximum convenience is delivered with "Mark to Mute". Just one button push is all that is required to permanently silence the audio warning of false warning locations you normally encounter.
With a variety of audible and visual warnings that warn what type of threat you're facing as well as "geiger" audio effect that increases in intensity, you'll be armed with maximum critical information so you can decide what action is required.
In addition to these early warning system features, 13 customizable settings give you maximum control over your driving experience.