For Campers, 5th Wheels, Tow-behinds, Goose-necks.
A more stable, secure and controllable ride
Anti-sway and reduced wheel hop
Increase driver control and confidence
Easy to install and maintenance free
7 day-a-week knowledgeable tech support to answer all questions
Prevent Sag and Reduce Sway by 30%
Easily and quickly installed directly above the vehicle's rear leaf springs.
Work in parallel with the vehicle's existing suspension system
Eliminates vehicle rear-end sag and improves towing capabilities.
Reduce body roll providing enhanced driver safety and control.
SuperSprings are a unique, patented, self-adjusting suspension stabilizing system for vehicles with rear leaf springs. They provide additional load leveling support and reduce body roll without compromising the vehicle ride. They work in conjunction with the factory spring pack and adjust automatically to accommodate different load and road conditions. Their anti-sway feature reduces body roll by 30% delivering superior driver control and safety; most noticeable when cornering, encountering strong cross winds or dealing with wind buffeting from other traffic. The adjustable shackles allow the installation to be tuned to suit the drivers' needs. They're available for trucks, vans, buses and RV's.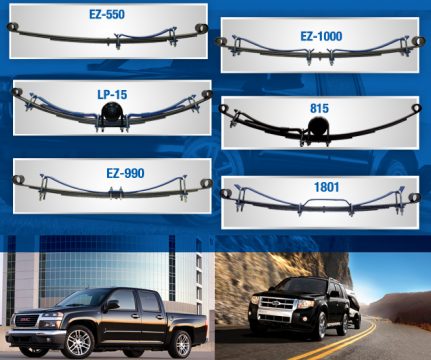 Our value line-up of Hellwig Helper Springs; these units pack a lot of capability in every box. Packaged complete with the same heavy duty powder coated and plated components, hardware and installation instructions as our heavy duty helper spring products, these kits are designed for the vehicle that needs lighter assist in carrying the load. Simple bolt on design using common hand tools provide the installer ease of installation and the vehicle owner hassle free use. Ideally suited for light towing and loads, these units are fully adjustable using the heavy duty u-bolts included in the kit using simple hand tools. If your tow and haul needs change, simply adjust the heavy duty u-bolts to suit the new requirement.
Once installed and adjusted you are free to haul and or tow a multitude of equipment and commodities with greater control and stability. Manufactured with heat treated ASTM 5150 alloy spring steel in our California based facility, these units can increase your vehicles level load carrying capacity up to the manufacturer's Gross Vehicle Weight Rating.