AMP offers the best choices for drivers who require high-traction tires that won't lose their grip. From an M/T tire that has a tread pattern designed specifically with off-road enthusiasts in mind to an A/T tire designed for individuals who do a bit of everything – AMP has the right tires for everyone. Get a grip and attack the terrain with AMP Tires!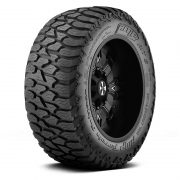 AMP Tires is proud to introduce the latest addition to its line of off-road light truck tires: The all–new terrain Gripper A/T G. The terrain gripper is now in stock and available to dealers and distributors in the united states and canada. The heavy-duty A/T tire for light trucks, Jeeps and SUVs was officially unveiled at the 2015 SEMA.
The newest light truck tire from the wheel group is designed for exceptional off-road traction, and on road performance in all types of weather. What distinguishes AMP Terrain gripper A/T G from our competitors is its meticulously designed tread pattern, winter snowflake rating.
This makes the Terrain Gripper suitable for high altitudes, northern latitudes and severe weather conditions.
AMP is proud to announce our new and improved Attack M/T A. As an off-road enthusiast, there are many challenges that you may encounter. From deep mud and slippery rocks to impossible trails, you need a tire that can conquer it all! AMP's oversized M/T A tires feature an aggressive tread design with maximum traction – especially in aired-down driving situations.
The massive tread grip on these tires offers both on and off-road durability whether you're driving on asphalt or sand.
With plenty of sizes available, there's guaranteed to be something right for you. When it comes to your tires, settling for less is never a good decision. Choose AMP's Attack M/T A and get all of the qualities you've been looking for in an off-road tire.