Since it was first founded, the BFGoodrich brand has showed its pioneering spirit and its determination to push the boundaries of performance ever further. This mindset has enabled it to make a large number of major breakthroughs in the tire sector. This is the common theme of a legendary story, punctuated by a succession of challenges handled successfully, important firsts and major events which have left their mark on tire development.
The story of BFGoodrich Tires began with Dr. Benjamin Franklin Goodrich, a self-taught entrepreneur and visionary who in 1870 founded a company that would become one of the greatest and most recognizable names in the tire industry. The BFGoodrich legacy is the fruit of all the challenges and achievements that have enabled us to make daily life easier for motorists around the world and make driving an increasingly safe and enjoyable activity. To achieve this, thousands of employees tap into their imagination and ingenuity to develop new, higher-performance products, leading a whole segment of the car industry.
At BFGoodrich, we make tires for people who want to unlock the full potential of their vehicles, and above all enjoy themselves. If you've been bitten by the driving bug, you're one of us! Our tires are developed by true enthusiasts who spend their weekends doing battle on rocky roads or pounding the asphalt on race tracks all over the world. Their expertise has been rewarded with titles in every competition the brand has entered, from the tarmac of Sebring to the steep, dusty roads of the Baja. They are the linchpins in the process, ensuring that technology is transferred from racing cars to mass-produced vehicles, and enabling BFGoodrich to bring its customers tires that take the very best from technologies used mainly in the world of competition, and which are guarantees of performance, quality and durability.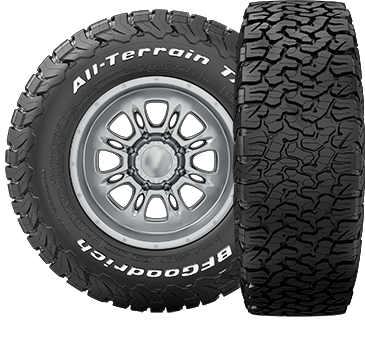 Off-Road Tires, Truck Tires, Winter Tires – BFGoodrich's toughest All-Terrain tire. Ever.
20% Tougher Sidewalls: Featuring race-proven CoreGard™ Technology to take on the toughest road hazards with confidence.
CoreGard Technology: Tougher Sidewall Rubber: Split & bruise resistant sidewall rubber, derived from BFGoodrich's race proven Baja T/A®KR2 tire.
Thicker, Extended Shoulder Rubber: Increased rubber thickness, extending down the sidewall to protect more of the critical sidewall failure zone.
Advanced Deflection Design: Computer predicted object path design deflects protruding objects from snagging & splitting the sidewall.
Longer Treadlife On and Off-Road: To extend your adventure.
Specially formulated tread rubber: optimally blended to reduce chip and tear for superior gravel road endurance. Advanced tire footprint shape: results in more evenly distributed stress, for longer more uniform wear.
Interlocking Tread Design: provide increased tread block stability, for more even wear over the long haul Stone Ejectors: Rejects stone retention & provides extra tread cleanout protection against stone drilling.
Aggressive All-Terrain Traction: Exceeding RMA Severe Snow Traction performance requirements.3to confidently get where you want to go.
Upper Sidewall Traction Bars: Protruding sidewall rubber blocks that provide increased mud, snow & rock traction, especially in aired-down driving situations. Mud-Phobic Bars: Raised bars in the shoulder tread area that helps to release compacted mud for enhanced traction in muddy and soft soil conditions. Serrated Shoulder Design: Staggered shoulder blocks that provide greater maneuverability in soft soil and deep snow conditions. Locking 3-D Sipes: 3-D active sipe technology, that provides more biting edges for significantly increased snow traction. 3 Peak Mountain Snowflake: Exceeds Rubber Manufacturer Association (RMA) Severe Snow Traction requirements.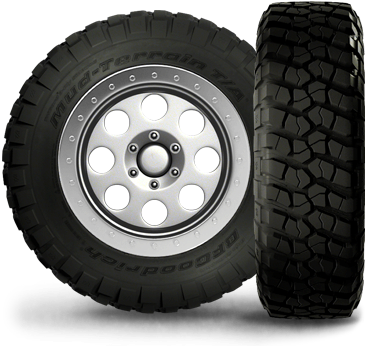 Off-Road Tires, Truck Tires All Season Tire
The no-limits tire for serious off-road enthusiasts.
When roadside assistance is not an option
Super-tough sidewall compound and 3-ply construction resists cuts and bruises to take the edge off of rocks and other off-road hazards
Overcome nearly any obstacle
Linear flex zones allow the tire to conform and grab obstacles in aired-down driving.
Leave the tow rig at home
Drive to the trails with better road manners and less noise than you'd expect in an unstoppable off-road tire.