Goodyear is one of the world's leading tire companies with operations in most regions of the world and one of the most recognized brand names. Together with its U.S. and international subsidiaries and joint ventures, Goodyear develops, manufactures, markets, and distributes tires for most applications. It also manufactures and markets rubber-related chemicals for various applications.
Goodyear is one of the world's largest operators of commercial truck service and tire retreading centers. In addition, it operates approximately 1,240 tire and auto service center outlets where it offers its products for retail sale and provides automotive repair and other services. Goodyear manufactures its products in 49 facilities in 22 countries. It has marketing operations in almost every country around the world.
Goodyear produces a wide range of tires for consumers all over the world. Across our brands, we offer all the benefits today's drivers are looking for, from innovative technology and performance handling to all-weather reliability and affordable quality.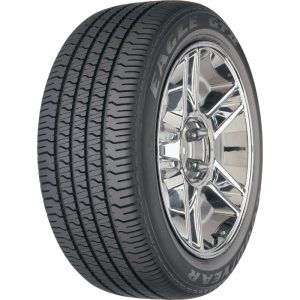 Designed to provide solid performance for a variety of America's favorite vehicles, the Goodyear Eagle GT II tire has a place right next to apple pie and baseball. Dependability comes from outer shoulder blocks that enhance cornering, handling, and traction on dry roads, interior grooves that increase wet traction, and "biting" sipes that dig into mildly snowy roads. The internal construction ensures durability, while sidewall styling creates good looks.
All-Season Sport Performance.
Classic styling and all-season traction.
Steering Responsiveness.
Solid shoulder tread block elements help provide cornering power, with enhanced handling and grip.
Black-serrated or open white-letter sidewalls offer sporty, contemporary styling.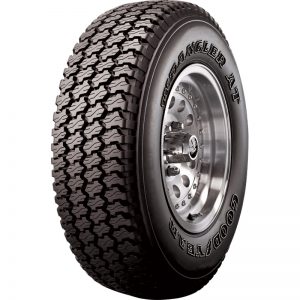 Wrangler AT/S tires are Goodyear's On-/Off-Road All-Terrain light truck tires developed for the drivers of two- and four-wheel drive pickups and full-size sport utility vehicles looking for satisfying on- and off-road capabilities. The Wrangler AT/S is designed to handle tough off-road conditions, provide pleasing on-road manners and generate traction in dry, wet and wintry conditions.
Wrangler AT/S tires use a tough tread compound molded into a multi-faceted symmetric tread design featuring aggressive independent wraparound shoulder blocks and interlocking center blocks to combine rugged looks and low noise. Dual self-cleaning Traction Lug Channels and strong lateral notches in the shoulder area enhance on- and off-road traction in dry, wet and wintry conditions. The tire's internal structure includes twin high-tensile steel belts and a polyester cord body to combine durability with ride quality.
Rugged strength, all-terrain traction, and an economical tread design for pickup trucks.
All-season tread design helps provide traction in a variety of conditions.
Large tread blocks help provide a stable footprint and confident handling.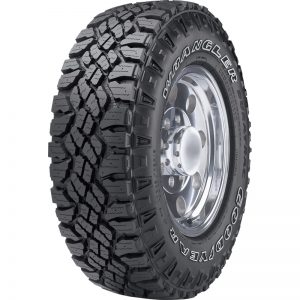 All Terrain Truck SUV
Enjoy the freedom of being able to go off-road whenever you like with the Goodyear Wrangler All-Terrain Adventure with Kevlar tire. Fully loaded with special features like a layer of DuPont Kevlar for puncture resistance and Durawall technology for extra sidewall strength, this tough all-terrain tire lets you plow through just about any terrain and any weather. With all that rugged strength built right in, you'll be ready to take on dirt or gravel, rain or snow.
DuPont™ Kevlar® layer lends off-road strength and helps prevent punctures in rugged terrain
Traction ridges and open shoulder blocks clear mud and snow from the tread
Biting edges and specialized tread compound for strong grip in rain, ice, and snow
60,000 mile treadlife warranty is 20% longer than other Wrangler tires
Durawall™ Technology strengthens the sidewall, preventing cuts and tears
Pro-Grade Package in light truck sizes and load range E: 2 layers of Kevlar®, heavy-duty steel belts with 30% more steel, enhanced tread compound, and the severe snow conditions mark